Germany
Schrannenplatz 6
91541
Rothenburg ob der Tauber
Our cozy 3-star hotel is steeped in tradition and located directly in the Old Town away from the typical tourist route and right next to the publicly accessible city wall. Our hotel offers parking directly outside, making it easily accessible for guests travelling by car.
The AKZENT Hotel Schranne charms its guests with its personal, homey atmosphere. Our 48 friendly rooms have been decorated and furnished with care. Choose from our various room categories; for example, 13 of our rooms are equipped with an adjustable AC and fire alarm system, and are accessible via elevator.
You'd like to discover Rothenburg and the attractive surrounding countryside on 2 wheels? We're more than happy to lend you one of our popular e-Bikes. A charging station is available directly at the hotel.
Our feel-good cuisine adds a pinch of culinary delight to your visit. All dishes are prepared using regional products and house-made sausages, for which our hotel was distinguished in the official "Bavarian Cuisine" competition. In summertime, we're happy to serve you in our shady garden.
We are also happy to welcome travel groups to the AKZENT Hotel Schranne and will send you a personalized offer upon request.
We look forward to your visit!

Your host
Family Meinold
Family Meinold
Sehenswürdigkeiten und Interessante Orte
Weißer Turm
Georgengasse 17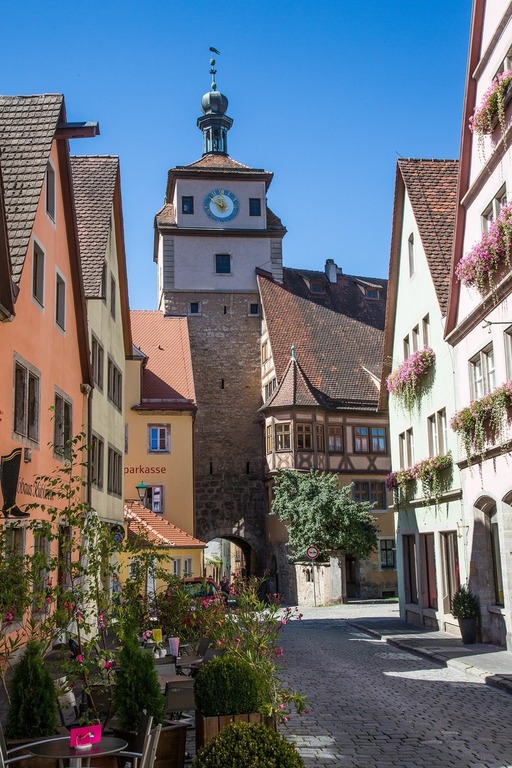 Der weiße Turm, auch "Galgenbogen" oder "Inneres Würzburger Tor" genannt, ist Teil der damaligen, inneren Stadtbefestigung. Die Bauzeit wird auf Ende des 12. Jahrhunderts geschätzt. Der Turm bildet den höchsten Punkt der Altstadt.
Stadtmauer Rothenburg
Röderschütt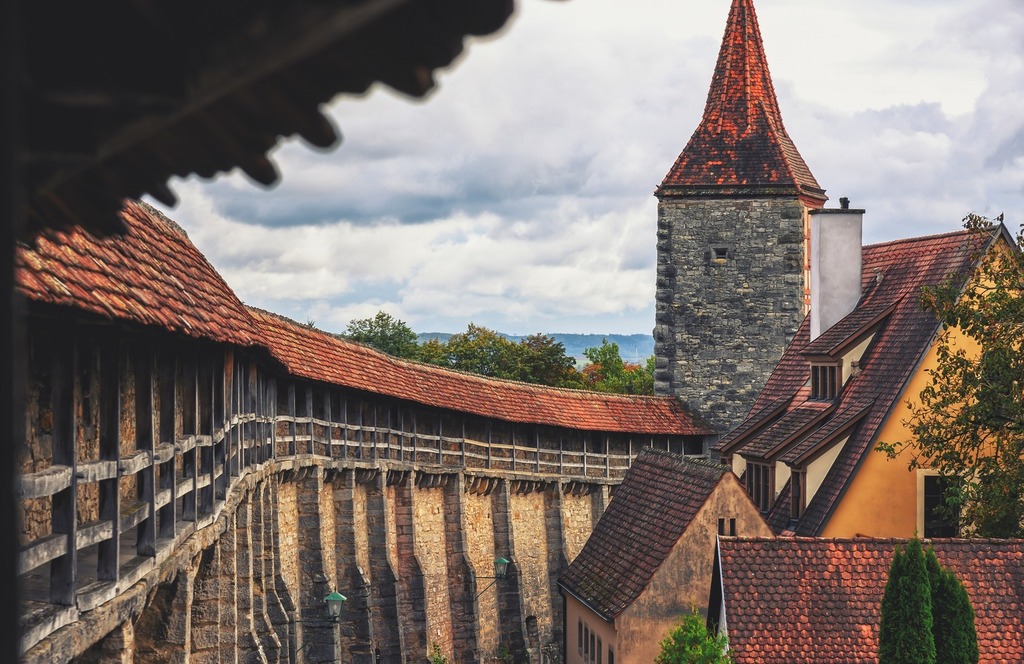 Entdecken Sie Rothenburg ob der Tauber einmal von oben. Große Teile der Stadtmauer stehen rund um die Uhr zur Besichtigung zur Verfügung und erlauben Ihnen, ganz besonderer Eindrücke der Stadt einzufangen.
Georgsbrunnen
Herrngasse 1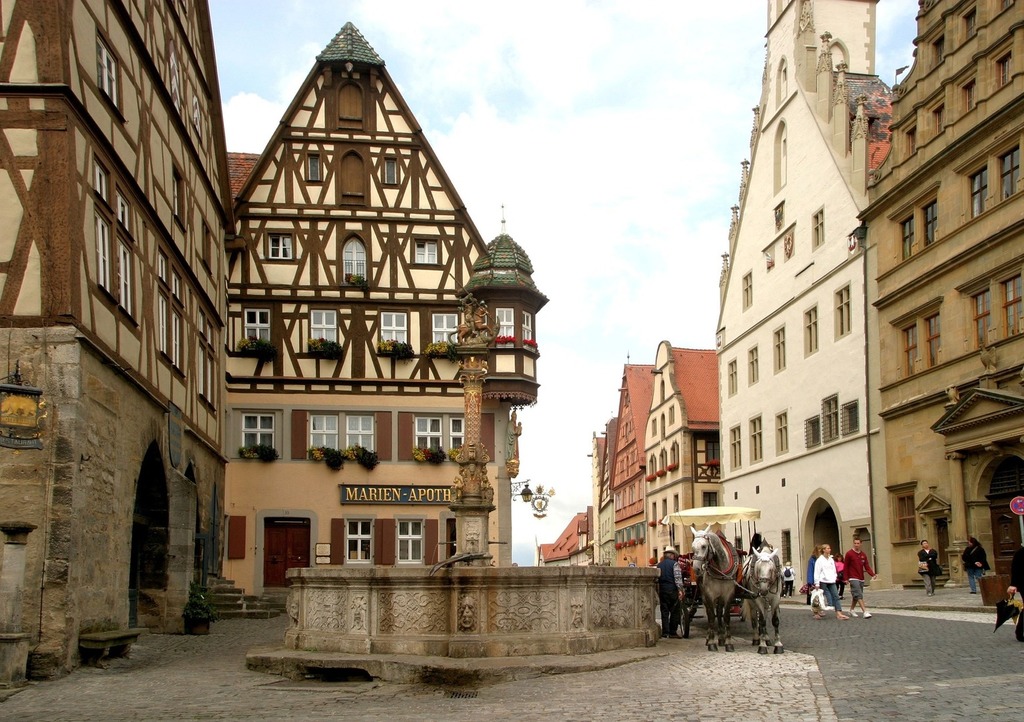 Der Georgsbrunnen, welcher sich zentral auf dem Marktplatz befindet, wird aus diesem Grund auch Marktplatzbrunnen genannt. Er wurde um 1446 erbaut und diente früher zur Wasserversorgung der Tiere und Händler auf dem Marktplatz.
Markusturm und Röderbogen
Rödergasse 1
Markusturm und Röderbogen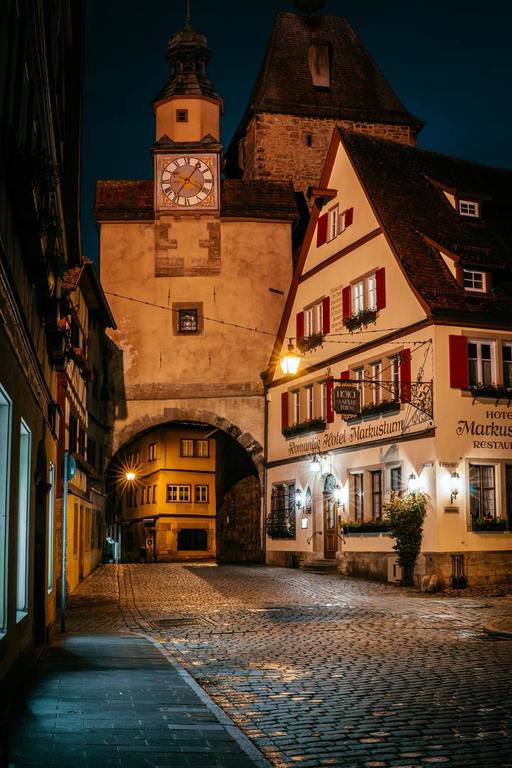 Wohl eines der schönsten Tormotive der Stadt, bilden der Markusturm und der Röderbogen. Erbaut um 1200 lässt diese historische Kulisse jedes Fotografenherz höherschlagen.
Galgentor
Vorm Würzburger Tor 6
Street
Vorm Würzburger Tor 6
Der um 1600 in der Stadtmauer erbaute Turm, bietet mit seiner Aussichtplattform einen hervorragenden Ausblick über die Altstadt. Der Name leitet sich vom früheren Richtplatz mit Galgen, vor dem Tor der Stadt ab.
Mittelalterliches Kriminalmuseum
Burggasse 3-5
Mittelalterliches Kriminalmuseum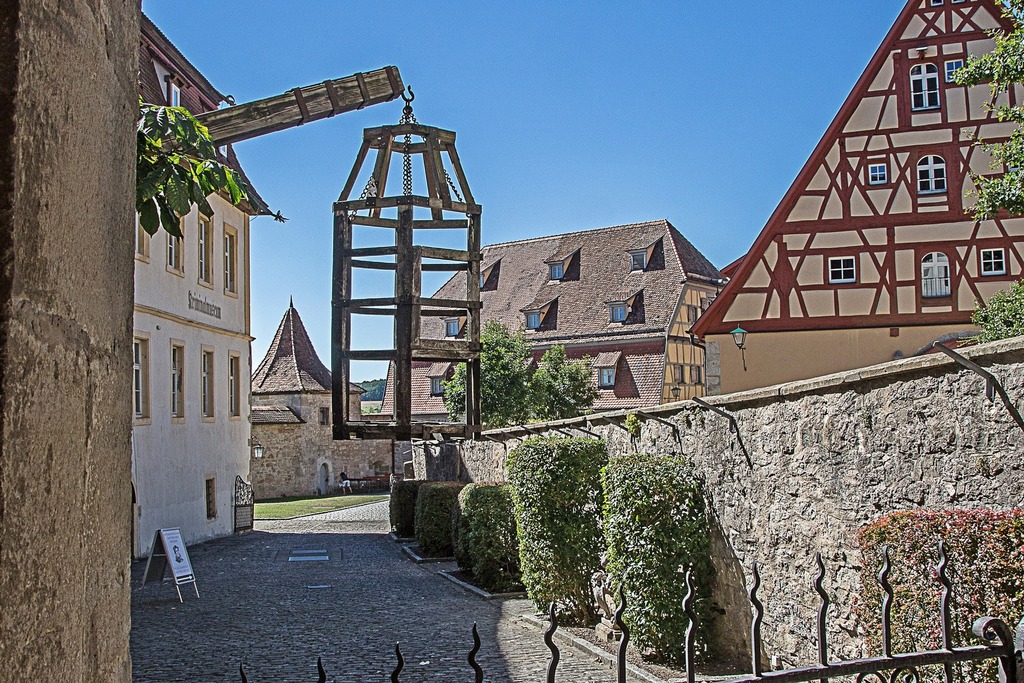 Sie interessieren sich für das Rechtsgeschehen der letzten 1000 Jahre? Dann sind Sie im Mittelalterlichen Kriminalmuseum genau richtig! Erleben Sie die dunkelste Geschichte der Eurpäischen Geschichte virtuell mit, von der Hexenverfolgungen bis hin zu Tieren in der Rechtsgeschichte.
Plönlein
Untere Schmiedgasse
Street
Untere Schmiedgasse
Einer der Gründe, warum Rothenburg ob der Tauber, jedes Jahr unter die Top-10 der fotogensten Kleinstädte gewählt wird, ist das Plönlein. Übersetzt heißt dies so viel, wie "Kleiner Platz am Brunnen". Im Zentrum dieses Platz steht ein krumm und schiefes gelbes Fachwerkhaus, welches als Highlight heraussticht. Umrahmt wird das Fotomotiv von zwei Türmen der alten Stadtmauer und ist auf jeden Fall einen Besuch wert.
Previous
Next